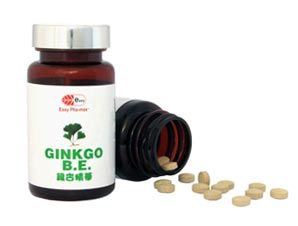 Ginkgo B.E.
Product: Ginkgo B.E.
Product Code: GBE
Type: 400mg x 60 Tablets

Price:
1 Bottle @ RM114.00
2 Bottles @ RM225.00

Product Information
Looking for Memory & Concentration Enhancer?
Ginkgo B.E. is extracted from the leaves of Ginkgo biloba, one of the oldest types of tree dating back to 250 million years that Charles Darwin (Owner of Nobel Prize in Chemistry year 1990) referred to as a "living fossil". It is highly touted as a memory and concentration enhancer. Compounds contained in ginkgo have been shown to boost blood flow in the brain by effectively dilating blood vessels, thereby nourishing the brain and increasing mental power.
Why do we need Ginkgo B. E.?
Individual with poor memory and concentration.
Individual concerning about senility prevention.
Individual suffering from peripheral vascular disease, which is often characterized by the narrowing of vessels that carry blood to the legs, arms, stomach, or kidneys.
Individual with tinnitus (ringing in the ears).
Easy Pha-max Ginkgo B.E. is the best brain tonic for all!
Key Ingredient: Ginkgo Extract
Recommended use: 1 tablet a day
Ginkgo B.E. FAQ
1. What is ginkgolic acid?
Ginkgolic acids are found in relatively high concentrations in the seed cover of Ginkgo biloba but are also found in lower concentrations in ginkgo leaf. Ginkgolic acid levels have to be controlled because it was found to be an allergen that can cause severe allergic reactions in certain people. In Europe, Ginkgo extract must meet the pharmaceutical quality limit of less than 5 ppm (parts per million) ginkgolic acid.
2. Which group of people is not encouraged to consume Ginkgo?
Ginkgo is not recommended for pregnant and nursing women, children, and those with hemophilia or any other clotting disorder. If you are taking any blood thinning medicine such as aspirin, it is advisable that you consult your doctor before use.
3. What is the suggested dosage?
1 tablet of 100 mg a day.
4. What is the advantage of Easy Pha-max Ginkgo B.E. as compared with other ginkgo products in the market?
Easy Pha-max Ginkgo B.E. meets the standard specification of 24% total ginkgo flavones glycosides (26.55%) and 6% terpene lactones (7.28%). Besides, it contains less than 1 ppm of ginkgolic acid. Each tablet contains 100mg of ginkgo extract, which is equivalent to 5000mg of ginkgo leaves. Easy Pha-max Ginkgo B.E. offers an affordable better-quality ginkgo extract, comparing with the leading market product that is only 40mg/tablet but selling at higher price.
5. Can I take this together with other Easy Pha-max products?
Yes.